Dr Vaibhav Patel,
MD.Pediatrics. IAP Fellow in Neonatology
He is a IAP certified Neonatologist Pediatric physician with a broad range of experience in providing care to critical infants with extreme prematurity, congenital abnormalities and complex heart disease with expertise in quality improvement. He is doing his exclusive newborn practice since last >5 years. He is in pediatric field since last more than 8 years.
Working as a consultant neonatologist compassionately caring newborns and effectively communicating with babies' parents since more than 3 years in Hasya newborn care centre that values vision, hard work, and proven success.
Highly skilled in treatment and procedures of extreme premature critical baby care.
Demonstrated success in building relationships with multidisciplinary staff, colleagues, and caregivers, and advancing medical philosophies.
Keeping himself busy in newborns 24x 7 let him to discover new ideas of low cost newborn care in area like Palanpur.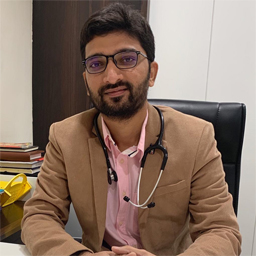 Professional Membership
IAP (Indian academy of Pediatric)
NNF( National Neonatology Forum)
IMA ( Indian Medical Association )
Education
2009, MBBS, BARODA MEDICAL COLLEGE, MS UNIVERSITY VADODARA
2013, MD PEDIATRICS, Sumandeep vidhyapeeth, VADODARA
2015, IAP NEONATAL FELLOWSHIP, ARPAN NEWBORN CARE CENTRE, AHMEDABAD
Skills
Intubation
Ventilator management(vonventional, high frequency)
Nasal Intermittent Positive Pressure Ventilation (NIPPV) management
Nasal Continuous Positive Airway Pressure (NCPAP) management
Chest tube placement
Umbilical Catheter placement
Peripheral arterial catheter placement
Peripheral intravenous catheter placement
Venipuncture
Arteriopuncture
Total body cooling management
Exchange transfusion
Skills
Intubation
Ventilator management(vonventional, high frequency)
Nasal Intermittent Positive Pressure Ventilation (NIPPV) management
Nasal Continuous Positive Airway Pressure (NCPAP) management
Chest tube placement
Umbilical Catheter placement
Peripheral arterial catheter placement
Peripheral intravenous catheter placement
Venipuncture
Arteriopuncture
Total body cooling management
Exchange transfusion